HTC Vive XR Elite – the next big thing in AR/VR?
February 01, 2023
The CES event is back, the biggest tech show in Las Vegas every January. One of the biggest new technology hits was the announcement of HTC Vive XR Elite, a brand new headset capable of both VR and augmented and mixed reality.
Here is why it is now the biggest AR/VR gadget that is going to be popular in Switzerland and elsewhere, even compared to Meta Quest Pro, Meta's latest headset.
Light and comfortable form factor – almost like sunglasses
One of the challenges of VR headsets was that they are bulky and uncomfortable to wear. This new device only weighs only 625g with the battery and headstrap and it is only 273g if you wear it without a battery. It feels very close to wearing glasses without pressure on your forehead.
Built-in diopters, so no prescription glasses are needed
You can adjust the headset with the built-in diopters (up to -6), so even near-sighted people can wear and don't have to worry about fitting their glasses under the headset.
Great AR/VR performance
It has a screen resolution of 2K pixels per eye, a great 110-degree field of view and a 90Hz refresh rate, these specs guarantee a very high-quality VR and AR experience, It also comes with intuitive controllers and hand-tracking. The battery lasts 2 hours (vs. Meta Quest Pro's 1 hour) and it is a hot-swappable battery, which means you can change the battery while using it and it will not power down. Alternatively, you can remove the battery to have less weight and plug in a portable power bank.
Mixed Reality Experience
Beyond the standard immersive and powerful VR experience, the HTC Vive XR Elite gives you a great mixed reality experience. This means that with its built-in external cameras, you can see the actual, real-world around you and the headset can superpose augmented reality content on it. See this example below, where you can see three screens projected in AR combined with the actual surrounding. the device has a unique depth sensor, so it can accurately place real-world objects around you.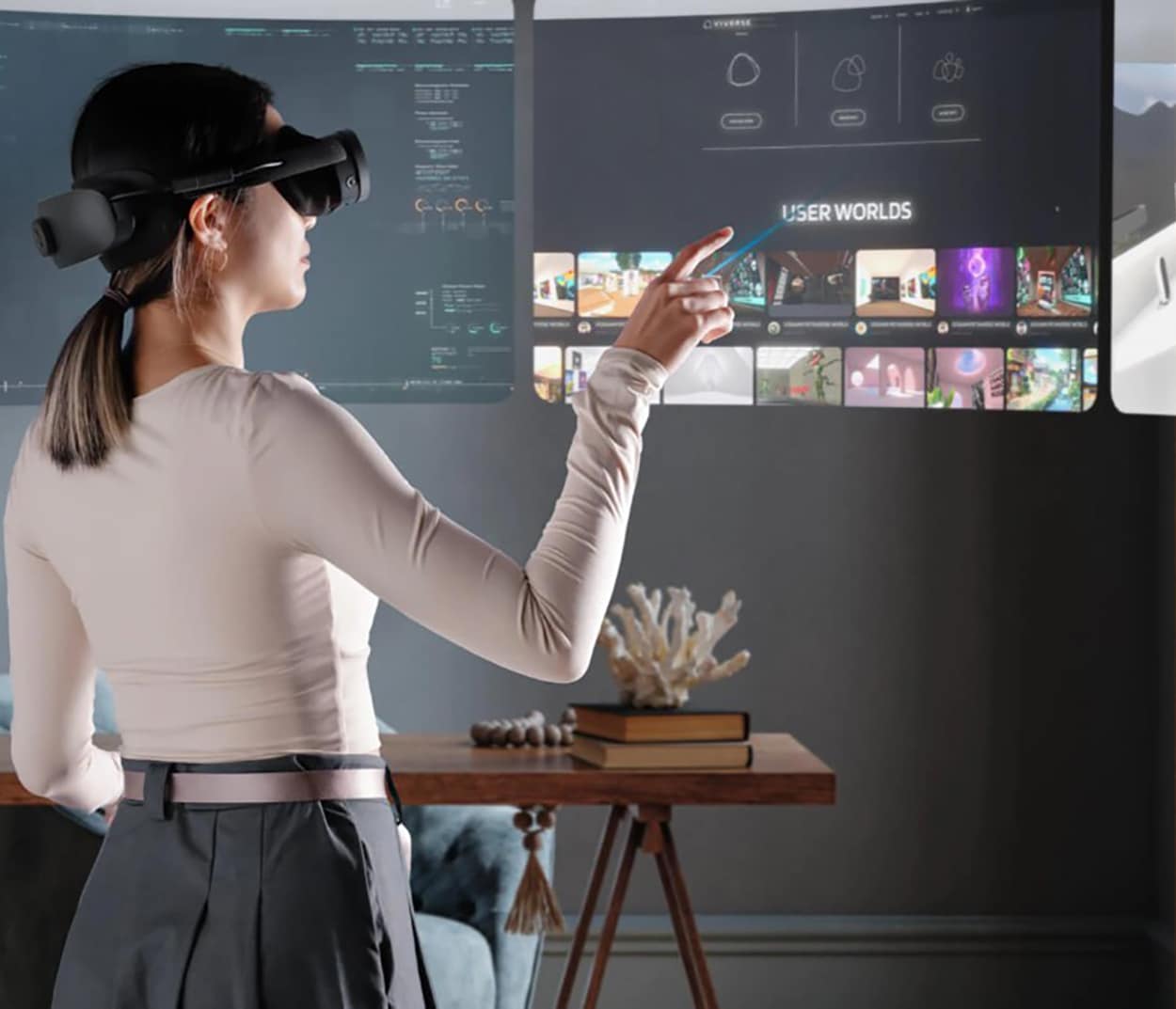 The HTC Vive XR Elite will hit the market in February 2023 for the price of $1,099 so significantly cheaper than the Meta Quest Pro ($1,499).
If you are interested in exploring the power of AR and VR, then feel free to read more about Swiss Tomato's capabilities, a leading AR/VR agency in Switzerland.